Like Even The Simple Can't Get Lost On A Straight Road.
But Martha was distracted with much serving. And she went up to Him and said, "Lord, do You not care that my sister has left me to serve alone? Tell her then to help me." But the Lord answered her, "Martha, Martha, you are anxious and troubled about many things, but one thing is necessary. Mary has chosen the good portion, which will not be taken away from her." Luke 10:40-42
You will note that Jesus didn't say Martha, Martha, "many things are necessary," nor did He say Martha, Martha a "Few things are necessary."
He didn't say that because there is only – one – thing, which is necessary.
Does that sound kind of narrow-minded? Well, the truth is often stubbornly narrow-minded. Zip codes, and telephone numbers and prescriptions are mulishly stubborn
Here is a story which supposedly comes from the sinking of the Titanic. The ship had hit the iceberg, and people had been instructed to go to their lifeboats. One of the wealthier passengers was just about to board when she stopped and asked for permission to return to her stateroom to pick up her valuables.
She was told the lifeboat would launch in 15 minutes.
With that countdown in her mind the woman raced across the slanted deck, ran through the gambling room, arrived at her stateroom, and reached for the one thing needful. No, she didn't try to collect her jewelry and gems, although they were incredibly, certainly, valuable. Forgetting the jewelry, she reached to the shelf above her bed and grabbed three small oranges. Less than a half hour before, those oranges were almost valueless, but now they were the one thing needful.
Looking at the possibility of spending some time on a lifeboat, the woman's priorities had changed.
I think the same thing might be said for anyone who takes a serious look at hell. The prospects of spending an eternity in such a place ought to reorder everyone's priorities. The appeal and allure of earthly wealth, fame, power, possessions and applause quickly fade, as they are pushed aside by what once might have seemed inconsequential.
So, what is the one thing which is needful?
God Himself answers that question. In John 3 it says: "For God so loved the world, that He gave His only Son, that whoever believes in Him should not perish but have eternal life. For God did not send His Son into the world to condemn the world, but in order that the world might be saved through Him" (John 3:16-17).
Here is another story that emphasis the "one thing is necessary"
Four people… a pilot, a professor, a pastor, and a hiker – were flying in a small plane when the engines died. The pilot said, "There are only three parachutes. Since this is my plane, I'm taking one of them" He strapped it on and jumped out. The professor said, "I'm one of the smartest people on the planet and the world can't get along without me. So I'm taking the second parachute," and he jumped out. Then the pastor told the hiker, "I don't want to be selfish, so you take the third parachute." The hiker replied, but there are really two parachutes left. "Why is that," asked the pastor, "Because the professor mistook my hiking pack for a parachute, when he jumped out of the airplane." One thing," one mistake, one wrong choice, can speak the difference between life and death."
There is only One Person who can save us from our sins and that person is Jesus Christ who said, "I am the way, the truth and the life; no one comes unto the father but by Me."
Period.  Exclamation Mark!  The End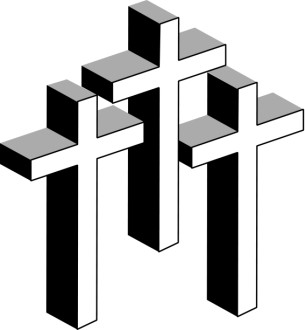 He's Only a Prayer Away!
Pastor Robert Bryant