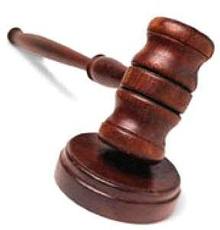 "For the time is come that judgment must begin at the house of God: and if it first begin at us, what shall the end be of them that obey not the gospel of God?" (1 Peter 4:17)
There is a terrible day of judgment coming for those who reject Christ, but for those who do believe the gospel and trust the Lord Jesus for salvation, "there is therefore now no condemnation |i.e. judgment|" (Romans 8:1). Yet our text tells us that judgment actually begins with those who obey the gospel! This apparent contradiction vanishes when one realizes that it is merely for the purpose of preparing those who are already saved to serve Him in eternity.
 When a believer sins, he should judge himself and personally confess that sin. "For if we would judge ourselves, we should not be judged" (1 Corinthians 11:31), and God will forgive (1 John 1:9). If he does not, however, the next phase of judgment is the chastening of God. "But when we are judged, we are chastened of the Lord, that we should not be condemned with the world" (1 Corinthians 11:32). The classic passage on the believer's chastening (Hebrews 12:5-11) concludes with the assurance that its purpose is to yield "the peaceable fruit of righteousness unto them which are exercised thereby" (Hebrews 12:11).
But when such chastening fails to work, the next judgment may even be physical death. "There is sin unto death" (1 John 5:16). "To deliver such an one unto Satan for the destruction of the flesh, that the spirit may be saved in the day of the Lord Jesus" (1 Corinthians 5:5).
Finally, all Christians must "appear before the judgment seat of Christ" (2 Corinthians 5:10), where "every one of us shall give account of himself to God" (Romans 14:12). There, some "shall suffer loss." Nevertheless, each person at this judgment "shall be saved" (1 Corinthians 3:14-15). But, as our text continues, "if the righteous scarcely be saved, where shall the ungodly and sinner appear?" (1 Peter 4:18).
Now That's Something to Think About!
His Forgiveness Is Never More Than A Prayer Away.
Be Blessed,
Pastor Bob