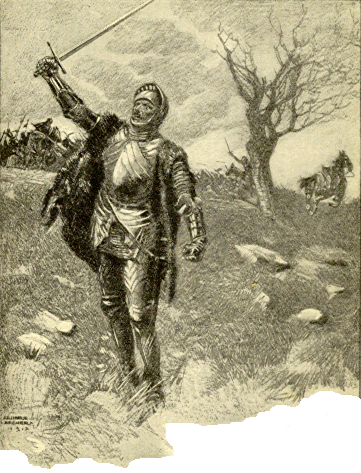 A Love That Will Not Let You Go!
This is one of Shakespeare's best known lines. The quotation is often repeated when someone is in need of some unimportant item.
The quotation comes out of Shakespeare's Richard III, 1594:
His horse is slain, and all alone on  foot he fights, Seeking for Richmond in the throat of death. Rescue, fair lord, or else the day is lost!
King Richard III:
A horse! a horse! my kingdom for a horse!
It Wasn't The Crime Of The Century:
The thieves knew after their robbery was completed the Mona Lisa would still be safe in the Louvre; Fort Knox would still hold its treasury of gold, and the crown jewels would remain out of harm's way in the Tower of London.
Even though this was not a major heist, Jeremy Lovitt and Gabriel Gonzales made sure their getaway car was running and their pistols were loaded when they entered the Stockton, California, Burger King to demand the eatery's cash. As management had trained them to do, the staff began to fill the robber's bags with the money.
All except for one.
This fellow saw, and took, a chance to slip out unnoticed.
I just love what that unnamed escapee did next. The very first thing he did was get in the robber's car and move it. He moved it around the block where it could neither be seen nor accessed. When the successful robbers burst through Burger King's doors, they found, well, they found they were going to have to make their escape on foot. End result: Lovitt and Gonzales were arrested and the money was recovered.
As Scottish poet Bobby Burns' said
"The best laid schemes o' mice an' men, [often go awry]
An' lea'e us nought but grief an' pain, For promised joy.
Here Are Ten 10 Biblical Proofs That God Will Never Leave You Or Forsake You!
1 Deuteronomy 31:6, "Be strong and courageous. Do not be afraid or terrified because of them, for the LORD your God goes with you; he will never leave you nor forsake you."
2 Deuteronomy 31:8, "The LORD himself goes before you and will be with you; he will never leave you nor forsake you. Do not be afraid; do not be discouraged."
3 Joshua 1:5, "No one will be able to stand up against you all the days of your life. As I was with Moses, so I will be with you; I will never leave you nor forsake you."
4 1Kings 8:57, "May the LORD our God be with us as he was with our fathers; may he never leave us nor forsake us."
5 Isaiah 46:4 "Even to your old age and gray hairs I am he, I am he who will sustain you. I have made you and I will carry you; I will sustain you and I will rescue you."
 6 Psalms 37:28, "For the LORD loves the just and will not forsake his faithful ones. They will be protected forever, but the offspring of the wicked will be cut off."
7 Psalms 94:14 "For the LORD will not reject his people; he will never forsake his inheritance."
8 Isaiah 41:17  "The poor and needy search for water, but there is none; their tongues are parched with thirst. But I the LORD will answer them; I, the God of Israel, will not forsake them."
9 Isaiah 42:16 "I will lead the blind by ways they have not known, along unfamiliar paths I will guide them; I will turn the darkness into light before them and make the rough places smooth. These are the things I will do; I will not forsake them."
10 Hebrews 13:5 "Keep your lives free from the love of money and be content with what you have, because God has said, "Never will I leave you; never will I forsake you."
God never said the road would be easy He just said He would never leave you nor forsake you until you finish your journey. People will leave you but God will never. He is always there even when you think no one else is.  Even in your darkest hour, even in your deepest silence God is listening but never considers abandoning you; not even for a moment, not even on the day you die. When everyone else walks out he walks in. He will never let you down. With Him all things are possible. He can make a way where there is no way. Do not be afraid when neighbors and friends and lovers and even your family forsake you; for you're never alone when all you have left is God. When people walk away let them go, your destiny is not tied to people who abandon you.
Don't ask if you can hold His hand; ask Him to hold your hand. His grip is mightier than yours. The task ahead of you is not greater than His promises; not greater than the power of the Holy Spirit within you. Trust in His timing; rely on His promises, wait for His answer, believe in His miracle-working power, rejoice in His goodness, relax in His presence. He's only a prayer away.  He didn't bring you this far to leave you now. Was he not with the disciples on the stormy sea even when they felt so all alone?  He will come walking on the water to you saying; 'Fear not, it is I."  When was the last time He failed you; when was the last time he was too late; when was the last time he left you all alone?  NEVER!
He Is With You Even on Your Worse Day!
Pastor Bryant