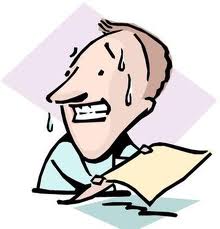 "For God has Not given us a Spirit Of Fear, but of power and of love and of a sound mind. prisoner, but share with me in the sufferings for the gospel according to the power of God,  who has saved us and called us with a holy calling, not according to our works, but according to His own purpose and grace which was given to us in Christ Jesus before time began." (2 Timothy 1:7-9)

Everyone knows what its like to be afraid. We all have things that we're afraid of. As a young boy I had to wrestle with being afraid of the dark. I had a few scary experiences with dogs that wanted a piece of me.  For some people its spiders or height or bad storms or airplanes.  There are some who are so afraid of failure, even though they have good business skills. They will not strike out on their own. The fear of failure and of  being laughed at causes them to live in a cocoon world of their own making
Fears Basically Fall Into Two Categories
First of all there is Good Fear. The fear that is good keeps us from driving 100mph, or picking up a rattler snake, jumping off the side of a bridge into the water before checking its depth. But there is also Bad Fear. The fear that is bad is harmful – This is the "spirit of fear" mentioned in the above passage. This fear paralyzes us, keeps us from doing things we could or should do.
Perhaps there is a fear that you need to overcome. 2 Timothy 1:7-9 gives us insight on "Overcoming Fear"
Satan Uses the "Spirit of Fear"
Satan is a master at using our fears to keep us from being effective salt and light in a world of spiritual darkness and moral corruption. He uses our fears to keep us from sharing our faith. He uses the "spirit of fear" to make us feel unworthy and bold for the gospel.
What will they think of me?
What if I turn them off?
What if I mess up?
They probably won't listen to me anyway!
These are the common fears Satan uses to make us ineffective witnesses!
Some people are so afraid that something is going to happen to their marriage, that they never get close, or have the intimacy they could have.
There was a lady who died in 1916 name Hetty Green. She was called America's greatest miser. When she died in 1916, she left an estate valued at $100 million. But she was so miserly that she ate cold oatmeal in order to save the expense of heating the water. When her son had a severe leg injury, she took so long trying to find a free clinic to treat him that his leg had to be amputated because of advanced infection. I am sure she was worried about losing her wealth, so she didn't even enjoy her life!!- We can be so afraid of losing our wealth or esteem that we never enjoy life.  Have you ever met a "worry wart" who wasn't miserable? He seems to enjoy making life miserable for all those around him.   
Fear Can Keep You from Serving God 
I am convinced that one of the main reasons may people do not submit their lives to Christ is not because it not rational or factual or profitable to them, but because they fear what their friends will think of them. Satan uses laughter, criticism, the shame of our past sins to bind us, to rob us, to hold us back from serving God. This is what the Bible means by "The Spirit of Fear." He hounds us with it.
Note, however, what our text says; "God has Not given us the spirit of fear."
Rather, He has given us Three things that will help us overcome fear:
First of all He gives to us the strength of Jesus Christ himself. Himself.                     "I can do all things through Christ who strengthens me."  (Philippians 4:13)                                                                             
Secondly, He Gives Us the Gift of Love
At first thought, it does not seem that Love could be effective in conquering fear; but by its very nature it does. "There is no fear in love; but perfect love casts out fear, because fear involves torment. But he who fears has not been made perfect in love."  (1 John 4:18)
The more we love God, the less fear we have. It is a matter of trust. When we realize that God will take care of us, it relieves our fears. Those who have children easily understand this – Your children do not live in fear because they completely trust you. If they did not they would live in ultimate trauma.
Love for God removes from us the fear of man but also gives to us a greater love for man. It's sort of like Rescue worker's or Ambulance driver's mentality. It gives you the courage and boldness that causes a parent to run back into a raging inferno to rescue their child…a soldier braving a hail of bullets to rescue a wounded friend.
Thirdly, God Gives us the Gift of a Sound Mind
Most of the time our harmful fears are the result of wrong thinking. But something happens when we become "born again" and begin to trust God. Our mind is renewed!                                                 
Romans 12:2, "And do not be conformed to this world, but be transformed by the renewing of your mind, that you may prove what is that good and acceptable and perfect will of God."
In my way of thinking I may be afraid I won't make it financially – If I trust in God and accept His way of thinking, I will be assured He will take care of me! If I fear death, my financial future, my past, those around me, the state of the world; my faith in God and His promises gives me soundness of mind. Fear just doesn't have the last word in my life as I lean heavily upon Him.
                                                          The Conclusion
Conquering fear is not a matter of self determination; it is a matter of dependence on the God whom we can trust and love. It is a matter of believing  His promises.
When God is all you have, you have more than enough. When God is your stronghold you need never be afraid. No circumstances can block His love. No grief is too hard for Him to bear. No task is too difficult For Him to complete. When what you're feeling is simply too deep for words and no one seems to understand, God understands. He is the God of all comfort today, tomorrow, and always. Begin to thank Him right now for His Power, His Love and a Sound mind.
Have a Blessed Week:                       
Jesus is only a Prayer away!
 Pastor Bob