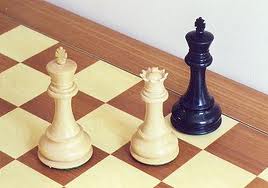 "God is our refuge and strength, a very present help in trouble. Therefore will not we fear." (Psalm 46:1-2)
Martin Luther,   in spite of his feet of clay is one of my favorite heroes. Few people have influenced Christianity and Wesern Civilization as he has.  Luther's journal entries inform us of his continual battle against evil forces, and that Psalm 46 was a great comfort to him. As he meditated on the words of our text, the thrust of a mighty song was born, which openly declared victory in the great battle: "A Mighty Fortress Is Our God."
A mighty fortress is our God, A bulwark never failing;
Our helper He, amid the flood Of mortal ills prevailing:
For still our ancient foe Doth seek to work us woe;
His craft and power are great,
And, armed with cruel hate,
On earth is not his equal.
The battle to be fought is "not against flesh and blood, but against principalities, against powers, against the rulers of the darkness of this world, against spiritual wickedness in high places" (Ephesians 6:12). Satan, along with his henchmen, is an ancient foe, "a roaring lion," as it were, "seeking whom he may devour" (1 Peter 5:8). But there is no need for alarm, "the Lord of hosts is with us; the God of Jacob is our refuge" (Psalm 46:11). He "is our refuge and strength" a bulwark never failing. "For this purpose the Son of God was manifested, that he might destroy the works of the devil" (1 John 3:8).
Only God could accomplish this victory, for Satan is "the prince of this world" (John 14:30), "the prince of the power of the air" (Ephesians 2:2). No man on earth is his equal.
But how did the Son of God gain the victory? By taking on Himself "flesh and blood," and dying a substitutionary death, "that through death he might destroy him that hadThe second verse of "A Mighty Fortress Is Our God" reflects our vulnerability on our own and our invincibility on His side.
Did we in our own strength confide,
Our striving would be losing;
Were not the right man on our side,
The man of God's own choosing:
Dost ask who that may be? Christ Jesus it is He,
Lord Sabaoth, His name, From age to age the same,
And He must win the battle.
After revealing many thrilling blessings, Paul asks: "What shall we then say to these things? If God be for us, who can be against us? (Romans 8:31). Furthermore, neither "principalities, nor powers" nor any thing else in all creation is "able to separate us from the love of God, which is in Christ Jesus our Lord" (Romans 8:38-39). With Him, Satan cannot win the battle for our minds or destinies. But on our own, we cannot win.
The term Sabaoth is the Hebrew word for "hosts," in particular the "host of heaven." The term Yahweh Sabaoth or "Lord Sabaoth" occurs some 300 times in the Old Testament and constitutes a most majestic name for God. "For thy Maker is thine husband; the Lord of hosts is his name; and thy Redeemer the Holy One of Israel; The God of the whole earth shall he be called" (Isaiah 54:5). This is none other than "Jesus Christ the same yesterday, and to day, and for ever" (Hebrews 13:8). Creator (Colossians 1:16), Sustainer (v. 17), Redeemer (v. 20)–He must win the battle.
The final verse of "A Mighty Fortress Is Our God" describes our tools and comportment while in the battle, and the final victory.
That word above all earthly powers,
No thanks to them, abideth;
The Spirit and the gifts are ours
Thro' Him who with us sideth:
Let goods and kindred go, This mortal life also;
The body they may kill: God's truth abideth still,
His kingdom is forever.
As the King's soldiers, we have God-given abilities and possessions, most notably the indwelling God's Spirit and empowering gifts. "If any man have not the Spirit of Christ, he is none of his" (Romans 8:9). "Now there are diversities of gifts, but the same Spirit" (1 Corinthians 12:4). We should "fear not them which kill the body, but are not able to kill the soul" (Matthew 10:28) and focus on Him, "denying ungodliness and worldly lusts" (even goods and kindred (Luke 9:60-62) if need be). "We should live soberly, righteously, and godly, in this present world; Looking for that blessed hope, and the glorious appearing of the great God and our Savior Jesus Christ" (Titus 2:12-13).
As of yet the battle continues. "To him that overcomes will I grant to sit with me in my throne, even as I also overcame, and am set down with my Father in his throne" (Revelation 3:21), "and so shall we ever be with the Lord" (1 Thessalonians 4:17).
The third verse of "A Mighty Fortress Is Our God" focuses on Satan's end. God has willed triumph through His truth.
And though this world, with devils filled,
Should threaten to undo us,
We will not fear; for God hath willed
His truth to triumph through us:
The Prince of Darkness grim–We tremble not for him;
His rage we can endure, For lo, his doom is sure,
One little word shall fell him.
When Satan was cast from heaven, fully a third of the angels fell with him (Revelation 12:4), such that a "legion" of them could inhabit one individual (Mark 5:9). But God has other plans for His children. He desires "to turn them from darkness to light, and from the power of Satan unto God, that they might receive forgiveness of sins (Acts 26:18). He desires us to "resist the devil" (James 4:7), and not "give place to the devil" (Ephesians 4:27).
He also has plans for Satan, including "everlasting chains under darkness" (Jude 6), and "everlasting fire, prepared for the devil and his angels" (Matthew 25:41). Just one word and Satan will be "cast into the lake of fire and . . . tormented day and night for ever and ever" (Revelation 20:10). Jesus, anticipating His execution, spoke of it triumphantly. This had been His Father's will all along. "Now shall the prince of this world be cast out. And I, if I be lifted up from the earth, will draw all men unto me" (John 12:31-32), and now the battle is His.
Satan's doom is sure and God's  Kingdom Is Forever
"Let us lay aside every weight, and the sin which doth so easily beset us, and let us run with patience the race that is set before us, Looking unto Jesus the author and finisher of our faith: who for the joy that was set before Him endured the cross, despising the shame, and is set down at the right hand of the throne of God." (Hebrews 12:1-2)
This is a Lot To Think About.
Enjoy!
PastorBob