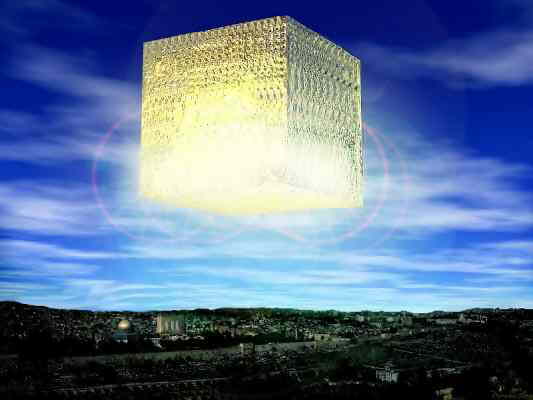 2 of 2
What Are Our Loved Ones Doing up in Heaven?
In my last article  I wrote to you on the subject; Why I believe there is a place called heaven? In this second article I wish to talk to you about, What the saints doing up in heaven? Those who have accepted Christ as their Savior from sin, and have lived for him all their life down here on earth, what are they doing up in heaven right now?
First of all, we know that They Are In Heaven, for the Bible says, "Absent from the body means to be present with the Lord." Jesus said to the thief on the cross who accepted him as Savior, "Today, you shall be with me in paradise [heaven]." And isn't that a sweet and comforting thought? So many of us have loved-ones who have gone on before us; their bodies are asleep in the grave, but their souls are with their Savior whom they loved and served.
I think the Lord brings some infirmities of old age upon us, so that we will eventually get a little tired of this whole world. We get pains, we don't sleep well, our hair gets gray, our steps become feeble, and the Christian says: "Well, I'll sure be glad to get out of this old body and go home to heaven!  "And as the years slip by, they have more friends in heaven than they have on earth. God sort of gets us homesick for heaven.
Secondly, All Christians Will Know One Another up in Heaven.
First Corinthians chapter 13 says," Now we see through a glass darkly, but then face-to-face: now I know in part, but then shall I know even as also I am known." Shall we have less sense in heaven then we have on earth? If we know one another here shall we not know one another there? At this present moment those who have gone on before us are fellowshipping with Peter, and James and John and Paul and all of the great saints of the ages.
We shed our sympathizing tears over the graves of those we love. When we leave that silent city of the dead we say goodbye to them, and it seems as if we have left a part of our heart there in the graveyard with them. But one day we shall meet them again and know that heaven is a place where God's people all know one another.
 Thirdly, In Heaven We Shall Have Resurrection Bodies.
We will have bodies very much like the body Jesus has right now. Will they really look like the bodies we have now? I think they will, but with all the blemishes, all the weaknesses all the infirmities forever gone. As the flower is far more beautiful than the seed from which it springs so will our resurrection bodies infinitely surpass the body we have now. In heaven we will have fellowship with all of God's people in brand-new glorified bodies that will never grow old, never become feeble with age or sickness. The Bible says," This mortal [body] shall put on immortality; this corruption [body] shall put on incorruption."
Fourthly, At This Precise Moment The Saints Of God Are Praising The Name Of Jesus.
It is there chief joy; it is what they love to do. Revelation 4:8 tells us," They rest not day and night saying, Holy, Holy, Holy, Lord God Almighty…" Heaven would not be heaven if it was just a place where we were united with our loved ones. But in heaven we will be with Jesus who loved us more than his own life.
Fifthly, The Saints up in Heaven Are Also Watching Us Here on Earth.
We read in Hebrews chapter 12," … seeing we also are compassed about what so great a cloud of witnesses, let us lay aside every weight and the sin which does so easily beset us." One can only imagine with what earnestness the saints in heaven look down upon this earth. The cry of their heart is that people would accept Christ as Savior as they did, and enjoy the same heaven. For Jesus alone is the way to heaven. Jesus said," I am the way, the truth, and the life, no one comes under the father but by me." The saints up in heaven don't want you to miss it. They want us all to enjoy what they are enjoying.
 Sixthly, Heaven Is A Prepared Place.
Jesus said, "I go to prepare a place for you." But it is a prepared place for a prepared people. Have you prepared yourself for heaven by accepting Jesus into your heart? If not I trust that you will do so today. The Bible says," Prepare to meet your God," and this you can do only by asking Christ to come in your heart and wash your sins away by his precious blood. Rely on Christ today, have the matter settled forever!
Hell is just the opposite of heaven. It is a place of separation and darkness. God is not willing that any should perish. He sent his only beloved son to die on Calvary's cross just for that reason; so that we meet not perish but may make heaven our home. Prepare a place in your heart for Christ today and he will prepare a place for you in heaven.
He's Only a Prayer Away!
Pastor Bob